Hi,
I'm trying to containerize my applications with this Dockerfile:
FROM mcr.microsoft.com/dotnet/runtime:6.0-alpine
ENV DOTNET_SYSTEM_GLOBALIZATION_INVARIANT=false
RUN apk update && apk upgrade --available
RUN apk add icu-libs
WORKDIR /app
COPY . .
RUN chmod +x ./LicensingRunnerTester
RUN rm -rf ./bin
EXPOSE 80
EXPOSE 443
RUN ls -altr
ENTRYPOINT ["./LicensingRunnerTester"]

But I have the following error:
---> System.DllNotFoundException: Unable to load shared library 'LexFloatClient' or one of its dependencies.
In order to help diagnose loading problems, consider setting the LD_DEBUG environment variable: Error loading shared library libLexFloatClient: No such file or directory
at Cryptlex.LexFloatClientNative.SetHostProductIdA(String productId)
at Cryptlex.LexFloatClient.SetHostProductId(String productId)

and I see Cryptlex dll: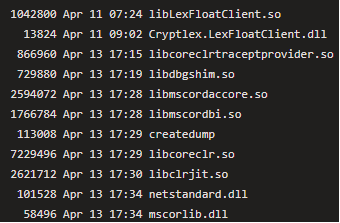 Can you help me?
Thank you in advance.